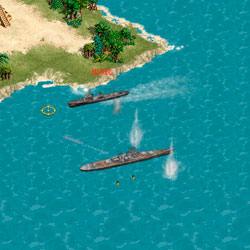 Play Game
Your country is under attack by enemy war ships. You are a ship commander and you must defend your country by using your canons to sink the enemy war ships. Use the map in the corner of the game screen to get an overview of the battle area. Stop the enemy attack and save your country! Good luck in this exciting battle game.
How to play Imperial Warships:
Use either the arrow keys or the W, A, S, and D keys to move around.
Use your mouse to take aim.
Click the left mouse button to fire.