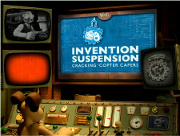 Play Game
Cracking Copters Invention Suspension is another great puzzle game featuring the crazy cute Wallace & his clever canine friend Gromit. Help Gromit use his helicopter to fly through the factory maze and collect all the parts he needs to create a fantastic new contraption.
How to play Cracking Copters:
Use the arrow keys to move your helicopter.
Use the space key to perform various actions, such as picking up items.