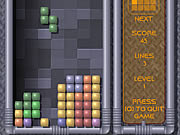 Play Game
Tetris Flash is a browser-based version of the classic arcade game. The rules are basically the same, with one added element. Once in a while a single block will come down which knocks out all of the blocks in its path. This can help you or hurt you, in terms of score, depending on your strategy and where you guide it . Enjoy hours of addictive fun with the flash version of Tetris.
How to play Tetris Flash:
Use the right and left arrow keys to move the descending shapes horizontally.
The up arrow rotates the shape.
The down arrow makes the shape descend faster.