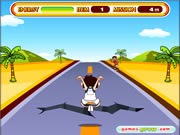 Play Game
Help Tom get to the finish line of this crazy running race. There are plenty of hazards and obstacles along the way, so watch out. You can make Tom move to either side to avoid danger, or have him jump over it.
How to play Running Race:
Use the right and left arrow keys to move Tom to the left and right of the course.
Hit the space bar to make Tom jump.