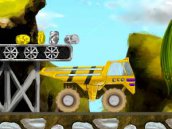 Play Game
Rock Transporter is a fun and challenging driving game. The goal is to pick up rocks in you transporter and deliver them. But the roads are bumpy and treacherous. You will need to concentrate to make it all the way without crashing, tipping, or losing all of your rocks. Different types of rocks have different values, so try to hang on to the really expensive ones to get the best score. There are lots of levels, they start of quite easy and gradually get more difficult.
How to play Rock Transporter:
To move forward and backward, use the Up and Down arrow keys.
To rotate the truck, use the Left and Right arrow keys.
If you get stuck, pressing the "R" key will restart the level.