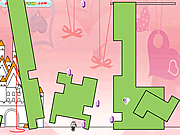 Play Game
In My Man Can, you play the role of the Prince dog. Your beloved Princess dog had been captured by an evil dog and imprisoned in his castle. You must go in and rescue the Princess dog. But beware! There are many dangerous traps and obstacles along the way. Time is running out – can you help the prince dog rescue the Princess dog before it's too late? We're counting on you.
How to play My Man Can:
This game is very easy to play. All actions are controlled by the mouse.