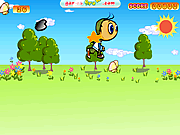 Play Game
Jack is a little boy who loves to run and jump. He also likes to collect things. And of course when he sees an apple or bannana or other fruit, he wants to jump up and grab it! Help Jack collect as much treasure and fruit as possible. But watch out for those flying stones. They hurt. Have fun running and jumping with Jack in this enjoyable game for kids!
How to play Happy Jumping:
Use the right and left arrows to make Jack go faster or slower.
Use the up arrow to make Jack jump.