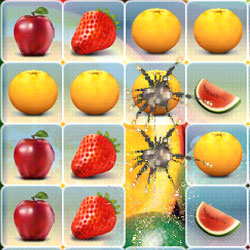 Play Game
The name, Eliminate Fruits, might sound a bit strange, but this is a fun and challenging puzzle game. Try to line up three or more of the same fruit in a row to make them explode in spectacular fashion. That's what they mean by eliminate, I guess. You move a fruit block by dragging it to the right or left to swap it with the block (or empty space) next to it. Try to line up the fruit blocks with as few moves as possible. There are 50 levels in the Eliminate Fruits game, and each one is just a little bit more difficult than the last. So you can enjoy this neat puzzle for quite a while!
How to play Eliminate Fruits:
Use your mouse to click and drag one of the fruit blocks to the right or left. This will cause that block to switch places with the block next to it.
If the area next to the block is empty, the block will move and the place where it was will become empty.