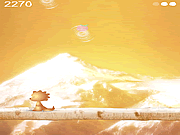 Play Game
Dragon Hit Cube is a cute and simple game, a bit like the old Asteroids games, but easier. Your cute little dragon wants to collect as much fruit as possible. To do this, help him shoot the falling cubes so they release the yummy fruit inside them. Try to get all the cubes before they hit the ground. Good luck!
How to play Dragon Hit Cube:
All actions are controlled by the mouse.
Move your mouse to the right and left to make the dragon run back and forth, and position him under the falling cubes.
Click your left mouse button to shoot up at the cubes.