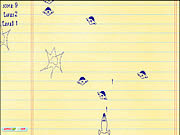 Play Game
Doodle Galaxy Invaders is like those classic arcade space invader games. Except it's done in doodle style. – Invaders are coming! Move your spaceship from right to left and shoot as many invaders as you can. And don't let hem crash into you.
How to play Doodle Galaxy Invaders:
Move your mouse to control the position of you space ship.
Click the left mouse button to shoot.