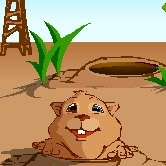 Play Game
Cute Hit Mole is, like the name says, a cute game where you try to whack cute moles with your hammer. Wait for the moles to stick their darling little heads out of their holes, and try to hit them before they duck back down. This is a simple and fun game for kids of all ages. Have fun!
How to play Cute Hit Mole:
It's a simple game – just use your mouse to click on the moles.¥
You get points for each time you hit one.