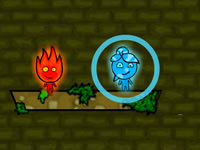 Play Game
Zombies have invaded the forest of Ice Girl and Fire Boy.  They must defend their home and protect  their family! Destroy the zombies. Ice Girl can only defeat Ice zombies. The fire zombies can only be destroyed by Fire Boy. But that's not all!  There are also green zombies. To kill the green zombies, both of them can not touch. Can you help Ice Girl and Fire Boy defeat all of the attacking zombies? Good luck!
How to play Angry Ice Girl and Fire Boy:
Use your mouse to click on Ice Girl and Fire Boy and drag them in order to control the angle and intensity of your shots.
Release the mouse button to launch Ice Girl Fire Boy and destroy the zombies.
Remember that Ice Girl can only shoot ice zombies while Fire Boy can only shoot fire zombies.